watch the following trailer and pick out the words you can hear. Write them down in your copybook.
http://http://www.youtube.com/watch?v=awfSLGYNb5w
Some of these words are in the trailer, some aren't. Write down in your copybook the ones that you can hear. :
moments / instant / Verrazano Bridge / building / persons / people / be married / be single / pay attention / look for / walk / run / inside / outside of the city/ visit / tourists / The Statue of Liberty / the Hudson River / birth control / babies / children /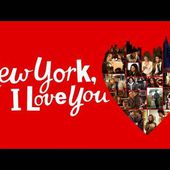 New York, I Love You (Official Trailer - HD)
Starring in order of appearance: Bradley Cooper, Hayden Christensen, Andy Garcia, Rachel Bilson, Natalie Portman, Irrfan Khan, Emilie Ohana, Orlando Bloom, Christina Ricci, Maggie Q, Ethan Hawke ...